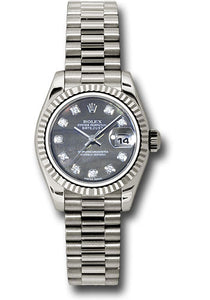 Rolex Ladies President Model # 179179 dkmdp
MSRP price $30,100.00 MSRP $7,800.00 Starting Price
Rolex white gold 26mm Datejust Presidential, with dark mother of pearl diamond dial, and fluted bezel. 
We are your personal concierge, here to get you the best deals on pre-owned, like-new, and new-unused Rolex watches!
Please note, that the current market value of any Rolex watch will vary based on condition, age, link count, Rolex box, Rolex paperwork, warranty, and the current market. If any of the above are; Unimportant or extremely important to you please let our expert shoppers know and we give you the best market quotes accordingly.
We can also offer the best deals on new-unused Rolex watches.
How to get started. Fill out a check availability form and include as much information as you can, connect with Mike or Rachel about your Rolex needs, and let us do the rest, best!
Are you interested in selling or trading a Rolex? We can pay you significantly more than any other company. We buy used watches directly from customers all around the world, and sell directly to private customers, collectors, and investors all around the world. Thus, we are able to pay the most for your Rolex and still offer best current market pricing to our end buyers, collectors, and investors.
Want to customize your Rolex with a custom diamond dial or bezel? Ask about our best deal guarantee. Nitzchia, our very own GIA certified diamond specialist oversees all RocksOnClocks custom diamond creations before and after we customize your Rolex to insure the highest standards of quality customizations.