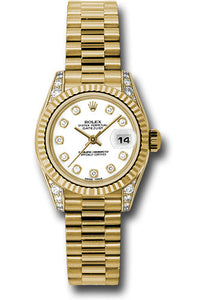 Rolex 18k ladies president, white diamond dial, fluted bezel, diamond luggs, model # 179238 wdp
MSRP price $28,900.00 MSRP $13,000.00 Starting Price
Whether you're buying, selling, trading, customizing, or servicing Rolex; let us know if you find a better deal... We love a good challenge!
We maintain a low overhead, and focus on volume, therefore we can buy and sell used, and new-unused Rolex watches with a super-low mark-up, thus affording the best deals to our customers world-wide who are interested in buying, selling, and trading Rolex watches from the comfort and privacy of your home or office.
We are your personal concierge, here to get you the best deals on anything associated with pre-owned Rolex, like-new Rolex, and new-unused Rolex watches!
Please note, that the current market value of any Rolex watch will vary based on condition, age, link count, Rolex box, Rolex paperwork, warranty papers, and the current market which can change daily or even hourly. If any of the above are; Unimportant or extremely important to you please let your concierge rep know, so you can get quoted accordingly.
We can also offer the best deals on new-unused Rolex watches. If you're interested in new-unused only, please let your concierge know and you will only be quoted the best prices for new-unused Rolex watches.
How to get started. Fill out a check availability form and include as much information as you can, connect with your Rocks On Clocks concierge to discuss your Rolex and/or diamond needs, and let us do the rest, best!
Are you interested in selling or trading a Rolex? We can pay you significantly more than any other company. We buy used watches directly from customers, dealers, and businesses all around the world, and sell directly to private customers, collectors, and investors all around the world. Thus, we are able to pay the most for your Rolex and still offer best current market pricing to our end buyers, collectors, and investors.
Want to customize your Rolex with a custom diamond dial or scintillating diamond bezel? Ask about our best deal guarantee. When it comes to customizing Rolex, you best have a business that knows Rolex watches well, and also specializes in diamonds. Any watch customized by RocksOnClocks is pressure tested and approved by our master watchmakers, we encourage our customers to keep their original Rolex dial and bezel after customizing their Rolex watch so they can convert their Rolex watches back and forth easily and at low cost. This can be easily done by us, free of charge, or at any RocksOnClocks approved master watchmaker world-wide. RocksOnClocks offers a 1 year warranty and free membership to our service-at-low-cost-price-for-life club with any Rolex purchased with us. Rolex will only service watches that are in the all original state. Nitzchia, our very own GIA certified diamond specialist oversees all RocksOnClocks custom diamond creations before and after we customize your Rolex to insure the highest standards of quality customizations.